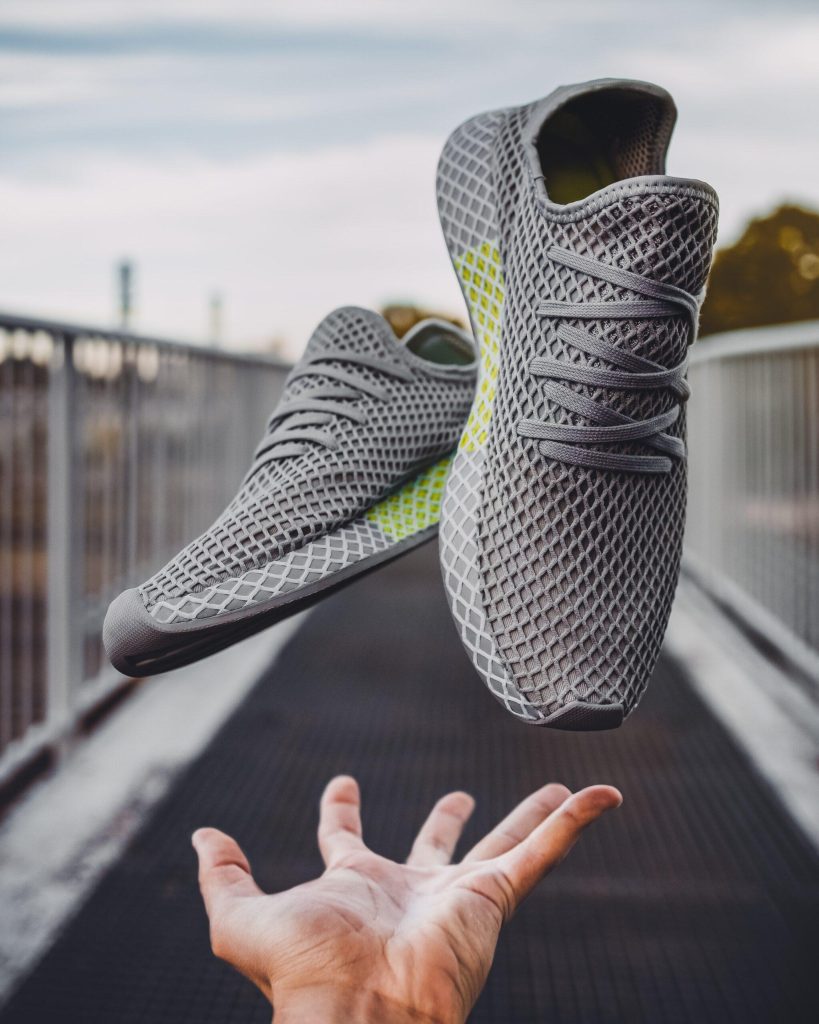 Because of their inherent complexity—a variety of materials and often intricate design—improving upon the environmental impact of footwear is especially difficult. Not to mention, shoes are one of those items that tend to wear out quickly, given the wear and tear of bearing weight across lots of terrains. In fact, the average running shoe lasts only about 400 miles, meaning someone who runs a few miles, a few times a week will have to replace their shoes more than once a year (Runner's World). For avid runners, it's not uncommon to go through a few pairs a year.
To address sustainability concerns, shoe brands are utilizing a combination of new materials, streamlining their supply chains, and moving towards circularity in order to make improvements (Business of Fashion).
Innovation in today's tech-powered world is at an all-time high. Today, there are more materials being made that are derived from natural, truly-compostable raw materials than ever before.
Allbirds was one of the first to make big strides in the sustainable footwear space. They use Merino wool and synthetic foam made from sugarcane (Business of Fashion). Allbirds has been able to cut down on waste by injecting their new liquidized soybean-based foam material into a mold and allowing it to harden, rather than cutting the shape they need from a block of foam (Business of Fashion).
There are entire tech companies emerging in the face of calls for more sustainable materials, and Evoco is just one of them:
"Evoco is a privately-owned cleantech innovation company that develops plant-based and carbon-reducing technologies for sustainable materials. FATES™, one of Evoco's headlining brands, provides the footwear industry with sustainable eco-foam insoles and midsoles. Headquartered in Toronto, the company has partnered with global leaders in active footwear including Kodiak, Timberland, and Vans, to create natural USDA and GreenCircle certified products that don't sacrifice sustainability for performance."

Forbes
The founder CEO of Evoco speaks to something he calls "natural circularity"—where the materials made from the Earth decompose and become one with the earth again. Mushroom-based materials are a great example of a material that can do this well. Sustainable fashion brand Reformation, along with high-end sneaker company Golden Goose and sneaker staple brand Adidas, are investing in innovative new materials such as mushroom-derived leather alternatives, among others (Business of Fashion).
Natural circularity is an interesting idea, especially because the move towards circularity in footwear is probably the space with the most room for growth. To be completely circular, a shoe must be able to be made into an entirely new product. Thousand Fell is one footwear brand touted as "circular", and while they are "able to recycle 80 per cent of a returned shoe — the rest is industrially composted"—"only 30 per cent of a new shoe is made from an old one because recycled materials don't have as much structural integrity" (Vogue Business).
The simple fact of the matter is, shoes are difficult to break apart. While a shirt has mostly two components (say, cotton and thread), shoes can be made of dozens of smaller parts (Business of Fashion). Strategies like utilizing fewer materials, limiting toxic glue usage, and more, can be helpful when it comes to utilizing old shoe parts.
While circularity is important to talk about, there are many other measures brands can take within their supply chains to make them more sustainable. Chief among them? Streamlining. Take Reformation, for example. With their sustainable footwear, they moved manufacturing to one spot, in order to have better eyes on the materials that are going into their goods, and reduce the impact from shipping materials from one point in the supply chain to the next (Business of Fashion).
Having better supply chain management, and the data you need to make decisions like these will be integral to boosting environmental success across your supply chain.
"In 2022, companies will see the advantages to be gained by streamlining supply chains through better use of data." Wired UK
At Vi3, we're supply chain management experts. Our suite of tools equips you with cutting-edge technology, data integration and visualization, all in a precise and instantaneous platform. Our team of experts is here to talk about all things supply chain—from streamlining to how to ensure the materials you want are actually going into your products, so that you can share that information with customers with ease.